The Adriel dashboard is also available on mobile devices as an app. We offer it only to those who are already using the PC version of the Adriel dashboard.
Now, let's learn how to use the Adriel mobile app.
Once you download the app, you can link the various advertising channels where your ads are running.
On the first screen, link to different channels where your ads are running. Adriel currently supports up to 20 channels and is constantly adding new ones.

This multichannel linkage allows you to see the advertising performance of your channels all at once by drawing a variety of marketing data.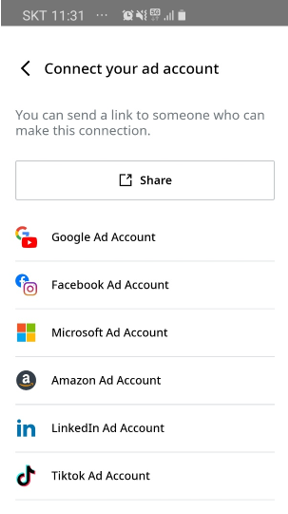 When you connect the channels, the dashboard with the integrated data as shown below appears as the main screen.
You can quickly turn on the dashboard and check if your campaigns are running well and how well they are performing whenever you go to work, or when you have a meeting.
In addition, if it was previously difficult to compare cumulative data, the Adriel Marketing-data Integrated Dashboard allows you to check cumulative data immediately without additional Excel data aggregation.
Data can be filtered in various ways and displayed for you to check.
You can also view the entire set of data at a glance through category filters you can set underneath the graph, and statistics filters, in descending or ascending order. There are many kinds of category useful filters that can be used for different purposes.
Filter by campaign status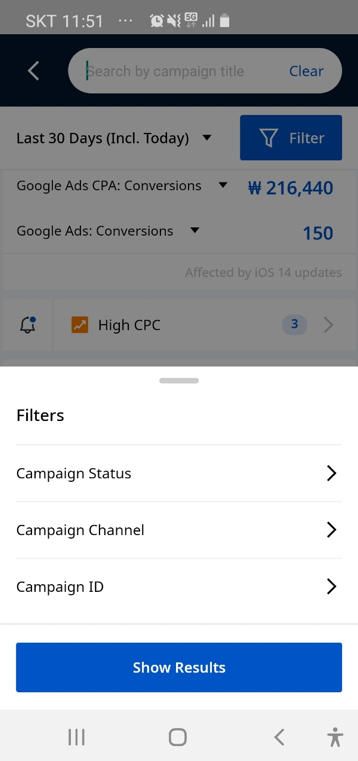 Filter by category, metric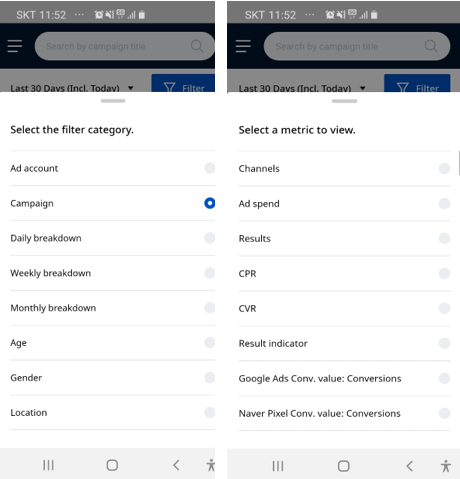 Check alarm notifications
Scrolling through the app, you can see alarm notifications of unique key issues for each account over the past period, at a glance.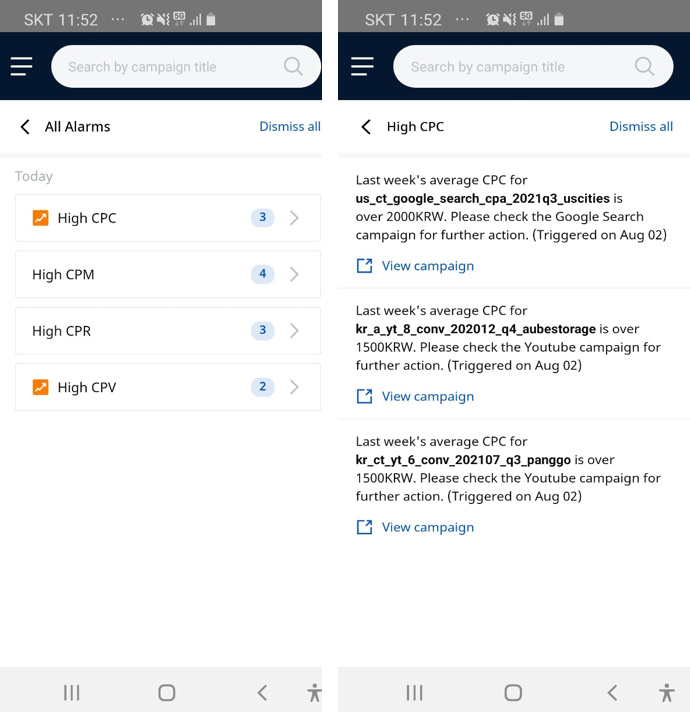 You can add or delete other linked ad accounts.
This makes it easy to link new ad accounts whenever you want.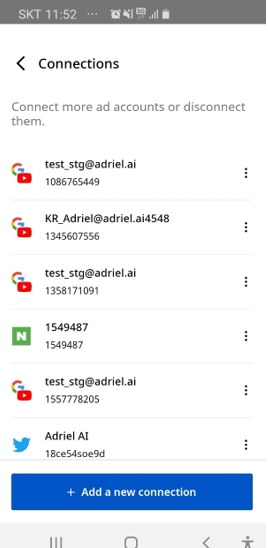 You can touch points on the graph to see representative indicators by period, statistic, etc.
Graphs can be checked according to various criteria, and colorful visualizations are automatically generated so that the data can be checked conveniently at a glance.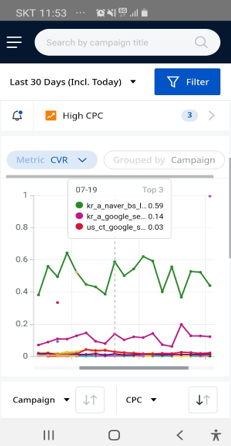 You can collaborate with multiple others by sharing dashboards.
It's really convenient to share dashboards and communicate with your internal and external partners. Create a workspace, and invite whoever you want, sharing your dashboard with them.
Finally, if you need fast support, contact the Adriel team through the Help & Feedback page.