Share your dashboard views in static and interactive formats
To save you time, Adriel provides inbuilt reporting features in .pdf, live link, and .csv/Excel format that enable reporting across multiple stakeholders, regardless of the number of campaigns and channels. The reports can be accessed on an as-needed basis or email automation can be setup.
How can I create a client facing report from my Adriel Dashboard?
1. Sign in to your Adriel account.
2. Click on Dashboard tab at the top.
3. In the top-left corner of the Dashboard, select the desired time range for your report.

4. Filter your data by campaign titles, status, ID channels, or ad account if you want to narrow your results.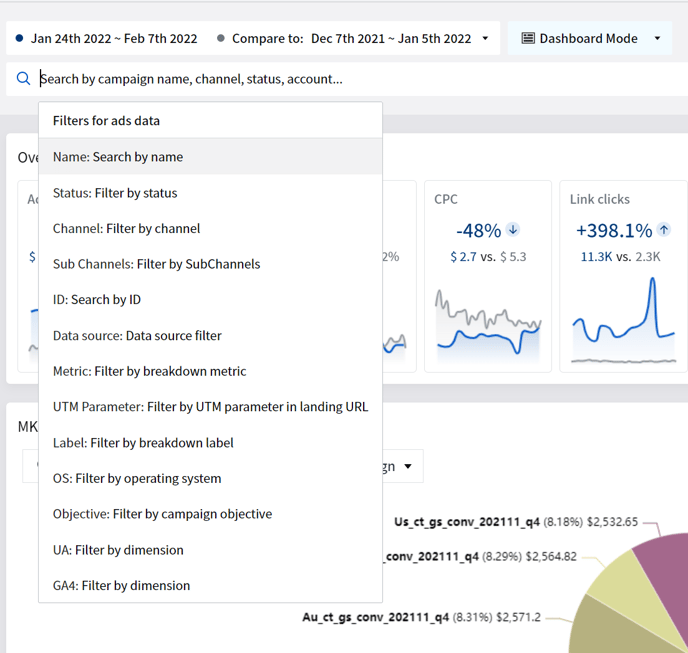 5. In the top-most navigation bar, click on the dropdown sign next to Dashboard Mode to reveal the Report Mode option. Clicking on Report Mode will generate a white label report in .pdf format will be generated.

How can I automate report sharing?
To minimize resource spend on internal and external report sharing and communication, you can set up an automatic periodical e-mail from the Adriel dashboard.
Within the Report Mode, click on the top-most icon in the left hand navigation bar to reveal the email automation setting for your reports.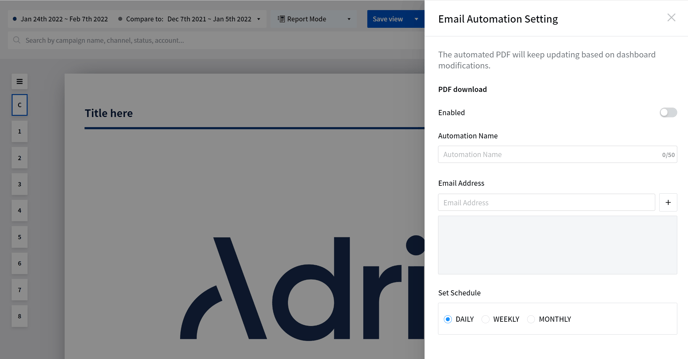 Can my clients and other external stakeholders also interact with the Adriel Dashboard?
We understand the significance of visual storytelling and the convenience of accessing reports in a single click.
Our platform offers an interactive link that enables users to share a live view of the Adriel Dashboard with third parties. Recipients of this link will have the ability to explore the metrics by hovering over the widgets and drilling down into the data. It's important to note that the shared link does not grant the recipients permission to modify or alter the data in any way. This feature ensures seamless interactivity while maintaining data integrity.
To generate a shareable link, simply click on the link icon in the right hand corner above the Dashboard view.