Filters allow you to compare the performance of each and every campaign you've ever run, helping you devise strategies for future optimization.
From the dashboard, you can filter your campaigns across multiple ad platforms all in one place. Additionally, you can apply multiple filters in order to further narrow your results.
Filter your data via the following categories:
Title

Status: Campaign, ad set, ad, keyword

Channel

Ad account

Campaign ID

Ad ID

Ad set ID

Metric

UTM Parameter
Basics
To add a filter:
On your Dashboard, click the search box on the top.

In the dropdown menu, select a category you'd like to filter by.

Select a sub-category under the category.

Type a search term within the selected category.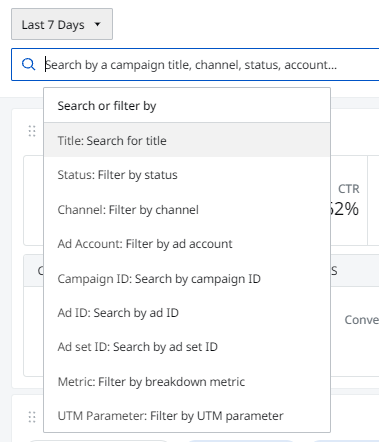 Sub-categories under Status: Campaign, ad set, ad, keyword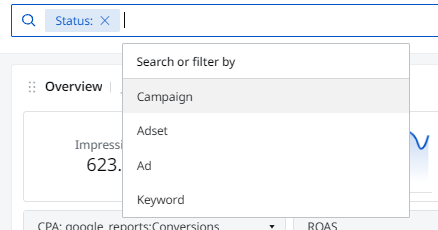 Sub-categories under Channels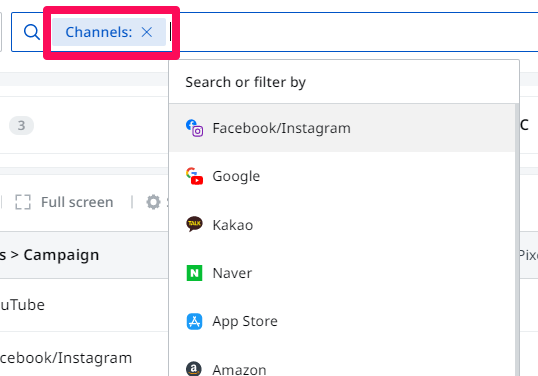 To save a filter:
Once you have selected your desired filters, click Save - Save as a new view.

Enter a name for the new view with the saved filter on the left side of the dashboard, and then click Save.
What is the metric filter?
This filter gives the ability to display performance of campaigns according to data related to either link clinks, impressions, ad spend or CPC. It helps you filter out data that falls below or exceeds a specific identified threshold.
To filter your data by metrics, click on Metric: Metric Search.
Five metrics will be shown in the dropdown menu. Select one of them below.
Ad spend

CPC

Link clicks

Impressions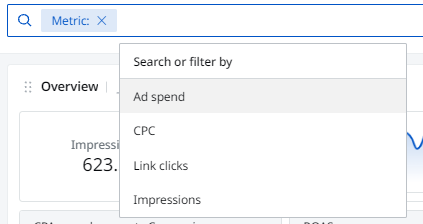 3. Optimize for value in detail.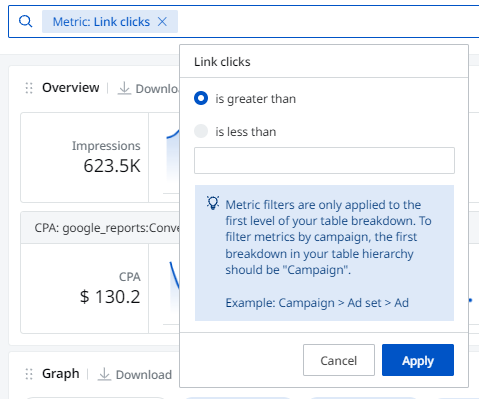 (Filtering by metrics can apply to all tables, regardless of channels.
For graphs, filtering by metrics can apply only with Facebook and Google channels.)
What does the UTM level filter do?
'UTM' stands for Urchin Tracking Module,. UTMs are parameters added to the end of the URL so as to measure specific campaign performances. The UTM on the link to the site allows you to collect the sources, media, campaigns, content, and keyword information it features, measuring marketing channels and campaign-specific performance separately based on this UTM information.
Click UTM level, then five different options will show as a dropdown.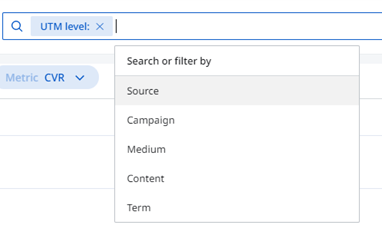 The source indicates the source of traffic.

The medium indicates the type of traffic.

The campaign refers to the name of the campaign.

The term is an inflow keyword and can be checked as a keyword from the GA dimension. It is recommended that you use it only in search advertisements.

The content pertains to the material details.